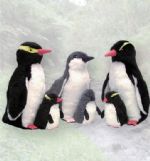 Found only in New Zealand waters, the Hoiho, or Yellow-eyed Penguin is probably the worlds rarest penguin. A sedentary species, it seldom swims far from its breeding ground.
Blue Penguins (or Korora), are the smallest of all penguins, with 5 of the subspecies endemic to New Zealand. They are our most familiar penguin and are commonly seen around rocky coastlines.
Small Penguin is 11cm
Medium Penguin is 29cm.